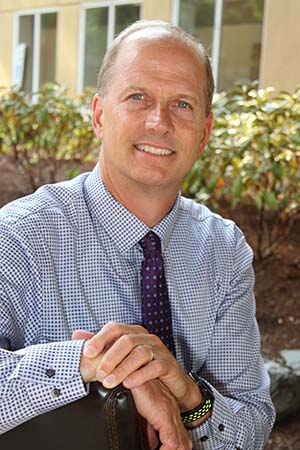 Neurotology and Skull Base Surgery
Dr. Douglas Backous is a board-certified Neurologist specializing in treating conditions of the ear and skull base. He attended Seattle Pacific University before graduating from the University of Washington School of Medicine in 1989. He completed his internship and residency in Otolaryngology -Head and Neck Surgery at Baylor College of Medicine (Houston, Texas) in 1995.
He went on to complete research followed by a clinical fellowship in Neurotology at John Hopkins University in Baltimore, Maryland in 1997. He and his family move back to Seattle to pursue his career, to give back to the community that helped him grow up and be closer to family.
For more than 22 years, Dr. Backous has provided leading edge treatments for patients with hearing loss, deafness, chronic ear infection, cholesteatoma acoustic neuromas and facial nerve disorders. His professional passion is ensuring access to care for patients who choose to hear with cochlear implants, brainstem implants, BAHA ™ and other hearing devices. He treats adults and children.
Dr. Backous is currently the Board Chair at Seattle Pacific University in Seattle, Washington. He has served on the SPU board since 2011. Both Doug ('84) and his wife, Julie ('86), are alumni of SPU. They have 3 adult children.
His medical research interests focus on implantable hearing device program efficiency for improved patient access and program viability. His interests in working with higher education is to improve the value and quality of education offered to students coming from diverse backgrounds. He is also the program director for the Seattle Advanced Otology Fellowship at Puget Sound ENT.
Dr. Backous joined Puget Sound ENT in Edmonds, Washington in 2017. He performs surgery at the Edmonds Center for Outpatient Surgery, Swedish Cherry Hill and First Hill and at Swedish Edmonds. He also sees patients in clinic and performs outpatient surgery at the Hillside Surgery Center in Puyallup, Washington to provide local access to high level surgical and specialty care.
Professional Involvement
Member, American Academy of Otolaryngology – Head and Neck Surgery
Fellow, American College of Surgeons
Member, American Neurotology Society
Member, American Otological Society